---
Technology Transfer
Projects
Convergence Technology Startup Support Project
AICT helps to develop and commercialize, in the form of startups, the innovative ideas of young people. By merging cutting-edge technology with our innovative capabilities to support startups, we play a central role as Gyeonggi Province's innovative platform that supports high value-added tech startups.
Youth Tech
Startup Projec
AICT operates a startup support center to provide one-to-one startup consultations, startup education, and space for startups. Our resources, coupled with the startup infrastructure of Seoul National University, allow young people's (i.e. college students') innovative ideas to be realized in the form of tech startups.
Laboratory Startup
System
AICT encourages researchers with business ideas associated with new convergence technology to start tech startups and provides support until they grow into independent enterprises. Once successfully commercialized, these enterprises will contribute to local communities through diverse outreach programs, thereby creating a virtuous circle involving tech startups.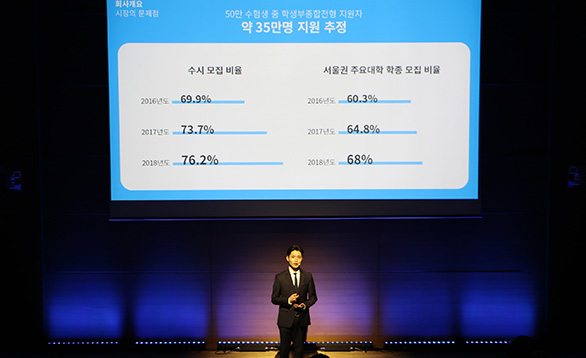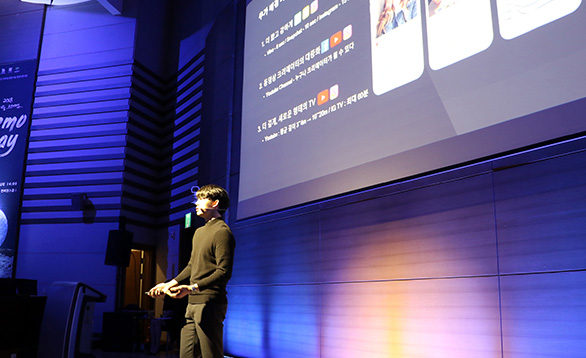 International Symposium on Convergence Technologies (ConTech)
AICT holds an international symposium(ConTech) once a year, inviting domestic and overseas luminaries to address global technological and societal issues.
Aiming to tackle technological and social issues through multidisciplinary exchange and collaboration, it has marked its status in the global community as a venue for promotion of convergence technologies and creation of new industries.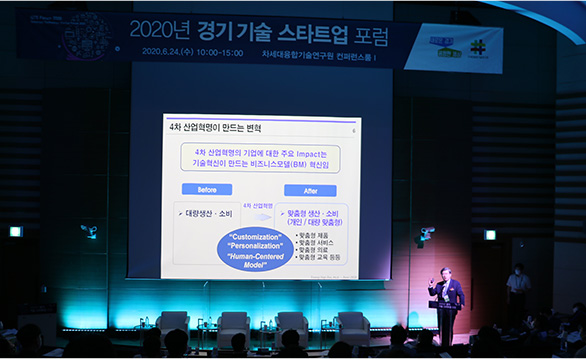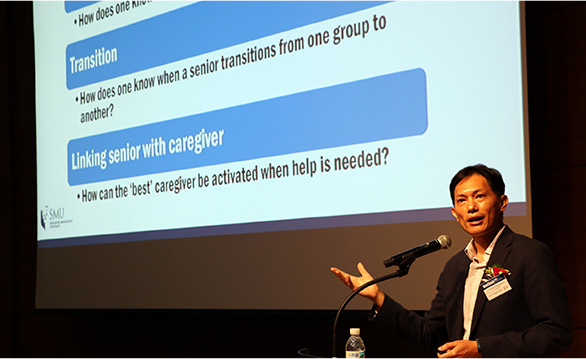 Project to Discover Joint Research Projects Involving Small and Mid-Sized Companies in Gyeonggi Province
This project aims to reinforce the R&D capabilities of small and mid-sized companies based in Gyeonggi Province and to support the commercialization of their technologies, by delivering customized consulting to help them solve technical problems. The Technical help is also provide to win national research contracts through the discovery of joint research projects that can be undertaken with these companies. Moving forward, AICT will play a pivotal role in providing R&D support to small and mid-sized companies and the industry-academia-research institute complex, by establishing an open system that allows universities and companies in the province to utilize outstanding research done by Seoul National University and AICT.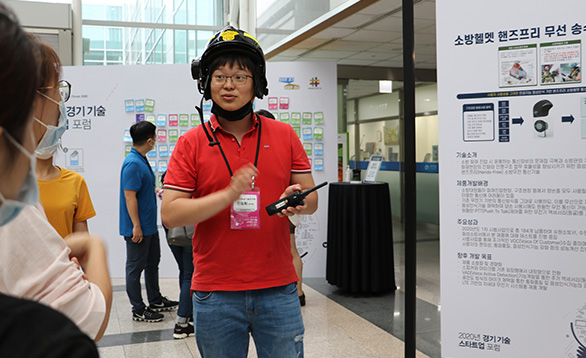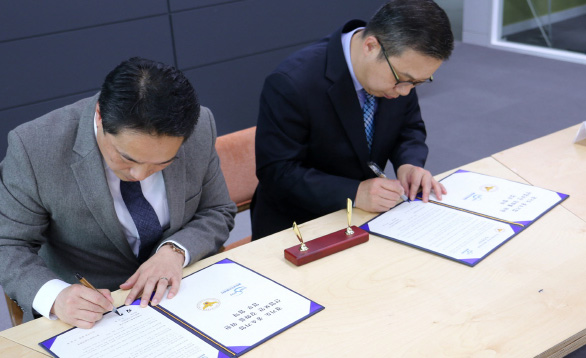 Convergence Technology Exchange Conference for Industries, Universities, and Government-Funded Research Institutes
This conference serves as a venue for sharing and exchanging ideas on convergence technology among industries, universities, and government-funded research institutes. It aims to reinforce the cooperative networking within the industry-academia-research institute complex by introducing convergence technologies developed by Seoul National University and AICT to small and mid-sized companies in Gyeonggi Province and by examining the R&D demands of these companies to discover possible areas for joint research and cooperation.
Convergence Culture Concert
The Convergence Culture Concert is AICT's representative program aimed at popularizing convergence. The concert is designed to educate the public about convergence in area of science, technology, humanities and arts by inviting publicly well-known speakers.
And the concert is also incude to tour around the southern and northern regions of Gyeonggi Province, it is held annually to promote balanced regional development and the diffusion of convergence culture.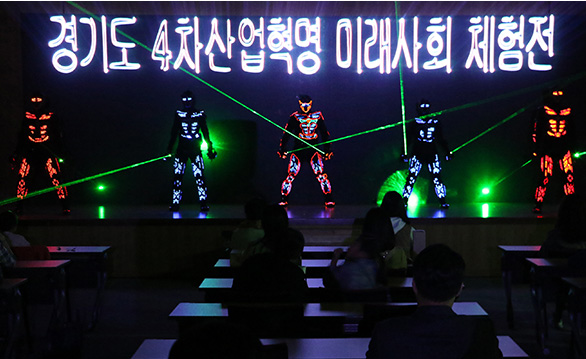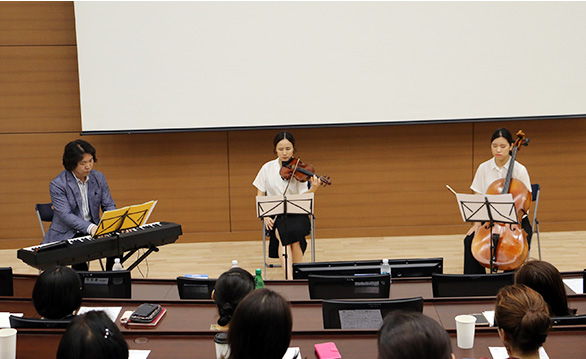 Convergence Science Special Lecture Series
The Premium Convergence Lectures, loved by many as a cultural program geared to cultivate the knowledge and refinement required from modern citizens, has been redesigned and offered as Convergence Science Special Lecture Series since 2018. With lecturers invited from a variety of domains including the humanities and science, the Series serves as a venue for communication to share knowledge and culture, thereby contributing to the popularization of convergence and the development of local communities.
Seoul National University's Youth School for Convergence Science
Targeting 1st year high school students in Gyeonggi Province, it is designed to promote creativity in the youth and to rear them as global leaders by providing them with the opportunities to experience research environment so that they can better understand the notion of convergence technology.
Education Volunteer Program
This is an educational donation program where startups, which have successfully launched their business with the assistance of AICT, directly participate in the act of giving back to their local communities. It provides middle school students in Gyeonggi Province with research experience activities related to the Fourth Industrial Revolution such as activities involving drones and Arduino, to increase their interest and curiosity in convergence technology and to nurture their dreams of becoming scientists in the future. To promote balanced development of local communities, the Program is currently being expanded to include AICT campus visit as well as lectures given in the remote areas of Gyeonggi Province.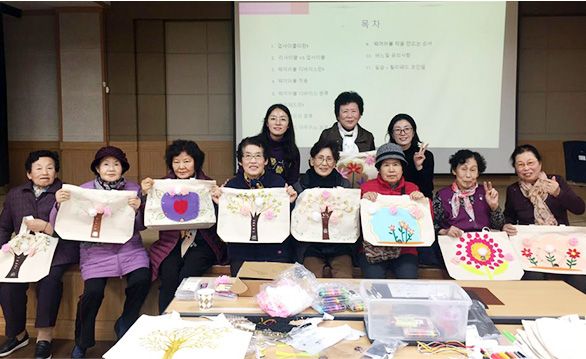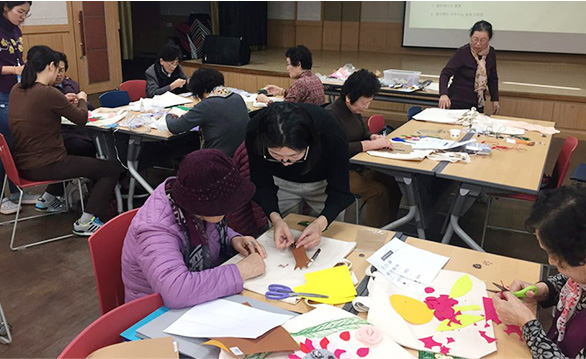 Gyeonggi Youth Internship Convergence Program
The Gyeonggi Youth Internship Convergence Program, previously operated for college students in Gyeonggi Province only during summer and winter vacations, has now been expanded to operate year-round for youths aged 19 to 34. This is a popular and representative AICT program, with participation from more than 120 youths each year. By providing opportunities to conduct research and gain real-life work experience, this internship program also serves as a program that provides assistance in employment and career pathfinding.